WHAT ARE DENTAL CLEANINGS / ORAL PROPHYLAXIS (SCALING AND POLISHING) AND WHY TO HAVE THEM?
THE PROFESSIONAL CLEANING OF TEETH IS SOMETIMES REFERRED TO AS PROPHYLAXIS .IT'S A GREEK WORD WHICH MEANS "TO PREVENT BEFOREHAND" - IN THIS CASE, IT HELPS TO PREVENT GUM DISEASE
Dental cleanings involve removing plaque (soft, sticky, bacteria infested film) and tartar (calculus) deposits that have built up on the teeth over time. Your teeth are continually bathed in saliva which contains calcium and other substances which helps to strengthen and protect the teeth. While this is a good thing, it also means that we tend to get a build-up of calcium deposits on the teeth. This chalky substance will eventually build up over time, like limescale in a pipe or kettle. Usually it is tooth coloured and can easily be mistaken as part of the teeth, but it also can vary from brown to black in colour.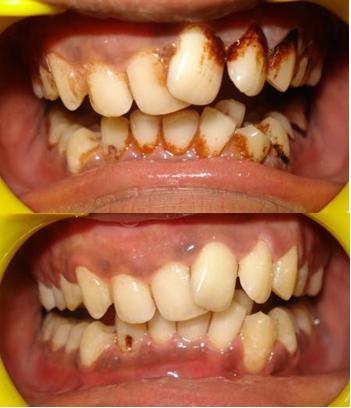 ONE OF MY FRIENDS TOLD ME THAT PROFESSIONAL CLEANING CAUSES SPACING BETWEEN THE 'TEETH. IS IT TRUE?
Teeth cleaning at IVORIES DENTAL CLINIC & IMPLANT CENTER is carried out by ultrasonic waterjet which is made of a NON-CUTTING EDGE. It cannot cause any destruction of the tooth structure. Hence it is harmless to the teeth and gums.
What happens in some cases is that tartar (solidified food debris) would have accumulated (occupied) for a long time where gums would have gone down and patient's tongue is adapted (used) to it. After cleaning, the tartar is removed and all the areas where tartar (solidified food debris) has been cleaned, the patient would initially feel the spacing or gaps between the teeth. In due course of time ,the gums will now get a chance to come back again to their original position from where they had moved down due to bacterial irritation of tartar.
HOW OFTEN DO I NEED TO GO FOR CLEANING?
If your oral hygiene care is good or average with correct method of toothbrusing, you may need cleaning only once in a year. But
if your oral hygiene care is poor or you have a habit of smoking and pan-masala chewing, you may need to go for cleaning every 6 months.
WHAT IF CLEANING IS NOT DONE PROFESSIONALLY REGULARLY ( EVERY YEAR) ?
If the scale, or calculus (tartar, as dentists like to call it) is allowed to accumulate on the teeth it will unfortunately provide the right conditions for bacteria to thrive next to the gums. The purpose of the cleaning and polishing is basically to leave the surfaces of the teeth clean and smooth so that bacteria are unable to stick to them and you have a better chance of keeping the teeth clean during your regular home care.
WHAT IS THE EFFECT / RESULT OF CLEANING?
Cleaning leaves your teeth feeling lovely and smooth and clean, which is nice when you run your tongue around them. More importantly, it restores your self-esteem as you smile again confidently without the fear of showing ugly teeth and gums.

HOW ARE DENTAL CLEANINGS DONE?
The Dr Shah uses specialized instruments to gently remove these deposits without harming the teeth. The instruments which may be used during your cleaning, and what they feel like, are described below.
Ultrasonic instrument
Commonly used is an ultrasonic instrument which uses tickling vibrations to knock larger pieces of tartar loose. It also sprays a cooling mist of water while it works to wash away debris and keep the area at a proper temperature.
THEY ARE BY NO MEANS SHARP SINCE THEIR PURPOSE IS TO REMOVE TARTAR LOOSE AND NOT TO CUT INTO THE TEETH.
It is best to inform the operator if the sensations are too strong or ticklish so that they can adjust the setting appropriately on the device or modify the pressure applied.
With larger deposits that have hardened on, it can take some time to remove these, just like trying to remove baked-on grime on a stove that has been left over a long time. So your cleaning may take longer than future cleanings. Imagine not cleaning a house for six months versus cleaning it every week. The six-month job is going to take longer than doing smaller weekly jobs.
---
Polishing
Once all the surfaces are smooth, then Dr Shah may polish your teeth. Polishing is done using a slow speed handpiece with a soft rubber cup that spins on the end. Prophylaxis paste - a special gritty toothpaste-like material - is scooped up like ice cream into the cup and spun around on the teeth to make them shiny smooth.
IS IT GOING TO BE PAINFUL?
Most people find that cleanings are painless, and find the sensations described above - tickling vibrations, the cooling mist of water, and the feeling of pressure during "scraping" - do not cause discomfort. A lot of people even report that they enjoy cleanings and the lovely smooth feel of their teeth afterwards! There may be odd zingy sensations, but many people don't mind as they only last a nanosecond.
WHAT CARE DO I NEED TO TAKE FOR THE INITIAL DAYS AFTER GETTING PROFESSIONAL CLEANING?
In some cases for the initial 24-48 hours, one may have to avoid extreme temperature food and liquids like ice-creams and cold-drinks. Thereafter, one may resume to their day to day food habits.
How many times a day should we brush the teeth?
You must brush your teeth after every meal ideally. Brushing at night is more important than in the morning. When we have food in late evening and we don't brush before going to sleep then the bacteria have a full 8-10 hours to attack the enamel and cause cavities. Brushing before going to bed is a must.
How often must you change the brush?
The brush must be changed as soon as its bristles become distorted in shape. Usually it takes 3-4 months. A toothbrush with frayed bristles has reduced cleaning efficiency and it also acts as a source of germs. Change the brush as soon as its bristles start spreading. Some brushes come with a colour indicator too for the same purpose.
How to prevent toothbrush abrasion
Toothbrush damage is known in the trade as toothbrush abrasion and is the damage to teeth and gums that results from the use of excessive force in brushing, usually using a hard toothbrush.
In a way this is the condition of people who care too much. Somehow they get to think that unless they really go at it with gusto they won't do a good job. This is a kind of over-zealous enthusiasm where the excess energy actually becomes destructive. The genuine desire to do the best is pushed over the top to become over-zealousness.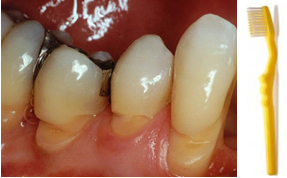 What is the problem?
The problem is the way in which a person thinks about what is required in brushing. Plaque is a very soft material, which builds up on the teeth. It is very soft and very easy to remove.
The problem is therefore very simply a wrong notion or idea which leads to an 'aggressive' approach to cleaning, resulting in damage or wear (abrasion) to tooth and gum tissues.
How does it affect the teeth?
Toothbrush abrasion affects both teeth and gums. Often the earliest sign of the problem is what people describe as a 'little ledge' in the tooth at the very margin of the gum. The person often feels this with a fingernail and sometimes there is an 'electric shock sensation' when the area is touched with the fingernail or a toothbrush bristle. Very often there are no shocking symptoms although sensitivity to cold is a quite common feature.
The damage to the tooth eventually manifests as a v-shaped notch at the gum margin which increases over time both in width and depth.
What is the solution?
We simply need to change the way we think about brushing.
Instead of thinking -
This job is difficult to do -
I need an aggressive approach -
There is harsh action needed -
I need a good hard brush -
Think instead -
This job is EASY -
I will be GENTLE with a SOFT brush -
I will TAKE MY TIME -
I will be THOROUGH -
I will NEVER use a HARD brush.
This change of mind coupled with the change of behaviour and a soft brush is all you need to prevent toothbrush damage.
The solution could not be easier!!
More Tips
Many if not most of the rechargeable electric toothbrushes (such as Oral-B) nowadays come with an indicator which lights up or shuts off the toothbrush when you brush too hard.
Many people also find these easier to use than manual toothbrushes.
Although their initial purchase price is higher and the replacement brush heads are more expensive, they can save you money in the long run.
What causes sensitive teeth?
Toothbrush and/or toothpaste damage may be the most frequent cause of sensitive teeth. By brushing too hard and/or using abrasive toothpaste, you may be removing tooth structure at the necks of your teeth. This can result in pain, especially to cold drinks, food, and air, but also to physical pressure, hot, sweet and sour. The reason for the pain is lost outer cover leading to exposed dentine - the inner substance of the tooth that link to the nerves on the inside of the tooth, and when dentine is exposed, these nerves are easily stimulated, resulting in pain.
Other things which can cause sensitive teeth include:
acidity erosion
gum disease,
tobacco (paan-masala) chewing
tooth grinding,, and
a cracked tooth or filling.
WHAT CAN I DO TO REDUCE SENSITIVITY IN FUTURE?
To prevent further damage, brush your teeth gently as described on our toothbrush abrasion page and avoid abrasive toothpaste or use a non-alcohol mouthwash to wet your toothbrush instead.
Toothpastes for sensitive teeth
Desensitizing agents such as Sensodyne rapid relief (there are different options in the market now) work by blocking off the dentinal tubules, so that the nerves don't get stimulated.
They work a lot better by gently massaging the paste or gel into the sore spot with a finger for a minute or so.
High-fluoride mouthwashes
You may to try a non-alcohol mouthwash with a high fluoride content for further relief . Some of them are specifically designed to reduce sensitivity. They should be used twice a day after brushing - one of those times should be just before you go to bed, so the mouthwash does not get rinsed away when you drink or eat something.
Swish / swirl the mouthwash back and forth between the teeth for at least 60 seconds, and do not rinse with water or eat afterwards for 30 minutes.
Some people also find that GC Tooth Mousse cream helps.
What can Dr Shah do about sensitive teeth?
Depending on the cause of the sensitivity, Dr Alaap Shah may be able to paint special fluoride gels, rinses or varnishes onto the affected teeth ,advise desensitizing toothpastes, treat the cause of sensitivity like decay or V - shaped notch in the tooth by fillings, and so on and so forth.
If you have a habit of grinding your teeth, especially at night during sleep, ask Dr Alaap Shah about the possibility of having a rubber plate (mouthguard) made to wear at night.